Contact us
A Facility Machinery (Shanghai) CO.,LTD
ADD.: No.555Mingye Road,Sheshan Industrial area,Songjiang,Shanghai
Post Code:201602
Sale:+86-21-57802859
Service:+86-21-57802760 or +86-17717366069
FLATLINER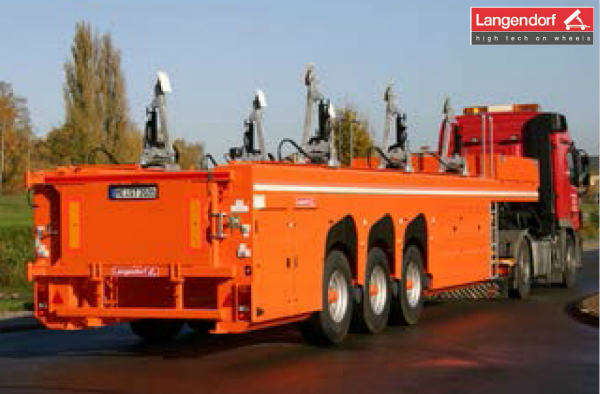 1. No more damage
vertical transport reduces the risks of damage.With the lashing points a secure lashing of each type of freight is possible.
2. Control Unit
easy one man operation.
Optional: Wireless controls.
3. Powerpack
electric pump assembly with batteries.
4. Suspension
reliable low maintenance suspension.
1. SAFE, FAST AND ECONOMIC
Loading, unloading and precise maneuvering within minutes
Compact and space saving
Low maintenance costs
No risk of damaging your valuable freight
Maximum safety for your employees
No reduce of the daily working time du to less load security
2. FLATLINER FOR EVERY PURPOSES
You can get a Flatliner in a short, light, long as well as a standard version. We have a special Flatliner for use inside factories with only two axles. The Flatliner is also available with a special tarpauline cover. Driving with open backdoor is possible and allowes you to transport longer elements.
3. SUSPENSION
Independent wheelsuspension is available with hydraulic- or airsuspension. The height of the Flat is 350 mm in transport position. On building sites the Flatliner can be lifted for more ground clearance. The Flatliner can be lowered completely for loading and unloading the flat.
4. LOAD SECURITY SYSTEM
Each load can be secured safe and simple. This reduces risks of accidents with your employees and products. The load security device is approved and certified by The Nord and is according to international regulations. This unique system got a legalt protection of registered desings.
DETAILS
. The load security system is highly flexible and can be adjusted to each individual load
. The load security system can be operated from the ground, there is no need to climb on the vehicle
. It takes only a minimum of time to secure the load
序号

参数名称

参数值

儀B003

车辆类型

半挂车

儀B008

最小离地间隙(mm)

350

儀B0091

轮胎气压(Mpa)

 .85

儀B0092

轮胎层级

胎面: 5层钢丝层

侧面: 1层钢丝层

儀B0093

轮辋规格

11.75x22.5

儀B0173

后桥(轴)型号

BPW /B100 or H102

儀B019

后悬架型式

液压

儀B0251

整车质心高度(空载/满载,mm)

1280/1960

儀B028

专用装置名称

Flatliner

儀B029

专用装置型号

Innenlader

儀B033

整备质量状态下,各轴质量分配(kg)

-/3x9.000 (27.000)

儀B0411

半挂车牵引销型号

2英寸

儀E012

行车制动系型式

压力空气刹车装置根据附件EBS ECE R13

QE013

应急制动系型式

摩擦刹车装置

QE014

驻车制动系型式

组合制动缸带弹簧蓄能作用在2 桥上

儀E021

制动鼓生产企业

BPW

儀E023

制动蹄生产企业

TMD Friction

儀E024

制动蹄型号

吀EXTAR

儀E025

制动衬片型号

420×180 /

儀E026

制动衬片材料

吀 90

儀E027

ABS系统控制方式

4S/2M

儀E028

ABS系统控制器型号

EB123.10E / EB124.6E

儀E029

ABS系统控制器生产企业

圀ABCO